Aldia's Keep is a location in Dark Souls II.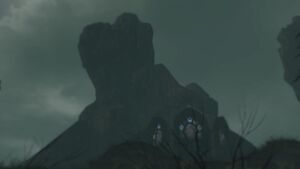 Description
Edit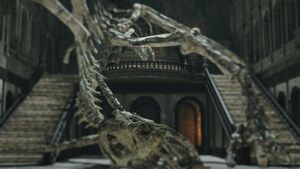 Aldia's Keep is a mansion which also serves as a research facility, similar to The Duke's Archives in Dark Souls. It features an outside garden, a long entranceway, and a multi-story lobby containing various items, enemies, and a merchant. At the top level, and behind a caged giant Basilisk, is a room leading to the more sinister research area featuring various enemies and items. Through the end of this area is the area boss, the Guardian Dragon, who guards the passage to the Dragon Aerie.
After obtaining the King's Ring from the Undead Crypt the player passes through the sealed door in the Shaded Woods and gains entry to Aldia's Keep. The player then makes their way through the keep and beyond to eventually reach the Dragon Shrine.
Aldia's Keep once belonged to Lord Aldia, the brother of King Vendrick. It was here that he carried out his experiments on various creatures in search of immortality, and later, a way to recreate the dragons of old.
Adjacent Locations
Edit
Characters
Edit
Respawning
Edit
Non-Respawning
Edit