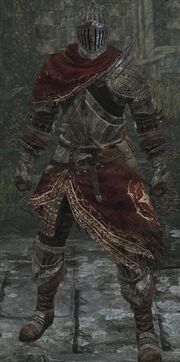 For the Dark Souls III dark spirit, see Alva, Seeker of the Spurned.
Alva the Wayfarer is a mentioned character in Dark Souls II.
Alva was once a knight who searched many lands for a cure for Saint Serreta's "sickness"[1]. Upon learning of his dedication to the saint, Zullie the Witch used all manner of tricks and deceit in an attempt to ruin Alva, but ultimately stood by his side[2]. In the end, Alva failed his mission and relinquished his knighthood[1]. His armor set can be acquired from Maughlin the Armorer once a sufficient amount of souls has been spent in his shop.
In the Scholar of the First Sin update, there is a new description of the armor worn by Alva the Wayfarer. It is said that eventually he found a new purpose in life with the aid of Zullie the Witch who once tried to ruin him.
Equipment
Edit
A dark spirit named Alva (The one from Dark Souls II) invades the player in Dark Souls III.
Another dark spirit with a Seeker of Spurned may invade the player in Dark Souls III. After his defeat a corpse can be found behind him with the full Black Witch set, which is worn by Zullie.
References
Edit
↑ Black Witch Set description.
Ad blocker interference detected!
Wikia is a free-to-use site that makes money from advertising. We have a modified experience for viewers using ad blockers

Wikia is not accessible if you've made further modifications. Remove the custom ad blocker rule(s) and the page will load as expected.