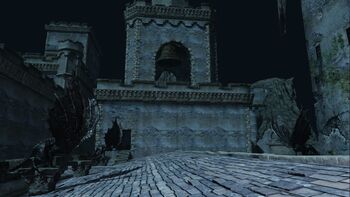 Belfry Luna is a location in Dark Souls II.
Description
Edit
Belfry Luna is a dilapidated bell tower and one of two homes to the Bell Keepers covenant, the other being Belfry Sol. It is an optional area, and can only be accessed with the use of a Lockstone. The entrance is in a small nook down a ladder, beneath the Servants' Quarters bonfire. This bonfire is accessed directly after defeating the Ruin Sentinels.
As players enter this location, they will find the Bell Keeper leader, whereupon exhausting his dialogue enables players to join the Bell Keepers covenant. Whether or not the player joins, the player is susceptible to invasion. This is a popular covenant to be used for player-versus-player combat, making it very common for the player to be invaded constantly in this area.
Adjacent Locations
Edit
Covenants
Edit
Characters
Edit
Respawning
Edit
Ad blocker interference detected!
Wikia is a free-to-use site that makes money from advertising. We have a modified experience for viewers using ad blockers

Wikia is not accessible if you've made further modifications. Remove the custom ad blocker rule(s) and the page will load as expected.