For the Dark Souls variant, see Black Knight Sword.
For the Dark Souls II variant, see Black Knight Greatsword (Dark Souls II).
The Black Knight Sword is a greatsword in Dark Souls III.
In-Game Description
Greatsword Wielded by the Black Knights who wander the lands. Designed to face chaos demons.
Black Knights constantly faced foes larger than themselves, and this sword's unique attack greatly reduces enemy poise.
Skill: Perseverance
Raise sword in the name of the First Lord to temporarily boost poise. Damage reduced while activated.
Availability
Edit
Found in the Smouldering Lake, behind an illusory wall.
From the Demon Ruins bonfire, descend two sets of stairs to reach a big room with two Demon Clerics. Turn right and proceed straightforward into a passage at the end. Hit the carved wall at the very end of this passage to reveal a hidden room with a Black Knight slaying a Ghru. The sword can be found inside.
Characteristics
Edit
The Black Knight Sword is a very effective greatsword for quality builds. Its moveset is composed mainly of horizontal slashes, making it good for dealing with groups of enemies when one-handed, and while it cannot be buffed or infused it still has very good damage output.
What sets the Black Knight Sword apart from its peers is its weapon art, Perseverance, which is normally only seen on hammers and great hammers. Combined with its impressive damage output and respectable swing speed, this allows crafty players to bait enemies into losing trades even if they are equipped with an ultra weapon.
Attack

Description
One-handed
Weak Attack
???
One-handed
Strong Attack
???
Two-handed
Weak Attack
???
Two-handed
Strong Attack
???
Jump Attack
???
Running Attack
???
Rolling Attack
???
Kick
???
Off-handed
Weak Attack
???
Off-handed
Strong Attack
???
Deals 20% bonus damage to demons.
Although the weapon itself makes an appearance, none of the Black Knights found in the game are seen wielding it.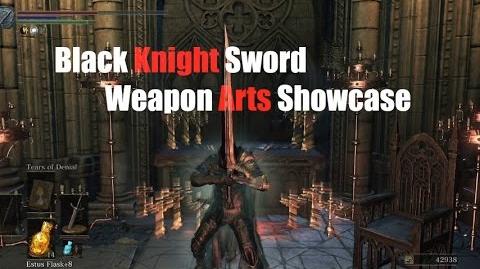 Ad blocker interference detected!
Wikia is a free-to-use site that makes money from advertising. We have a modified experience for viewers using ad blockers

Wikia is not accessible if you've made further modifications. Remove the custom ad blocker rule(s) and the page will load as expected.