The Bone Scythe is a reaper in Dark Souls II.
In-Game Description
Scythe forged from the soul of the Covetous Demon.
The curved spine of the Covetous Demon is as hard as rock, and rather than slicing through flesh, this weapon seems to grind it apart.
That thing that ended up a monstrous fiend, what was it to begin with, and why did it never leave the queen? Perhaps it was entranced by some perversion of love.
Availability
Edit
This weapon is obtained by trading the Covetous Demon Soul with Straid of Olaphis.
Attack

Description
One-handed
Weak Attack
???
One-handed
Strong Attack
???
Two-handed
Weak Attack
???
Two-handed
Strong Attack
???
Jump Attack
???
Running Attack
???
Rolling Attack
???
Left-handed
Weak Attack
???
Left-handed
Strong Attack
???
When attacking with the Bone Scythe, the player will move backward slowly. This can be used as an advantage to the player as the player will put some space between the enemy.
Due to the fact that this weapon has only scaling in strength, this might be attractive for players who haven't invested in dexterity, and are in need of more versatility in combat.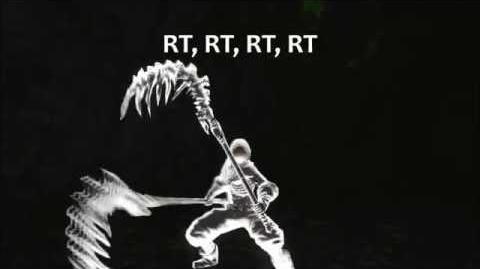 Ad blocker interference detected!
Wikia is a free-to-use site that makes money from advertising. We have a modified experience for viewers using ad blockers

Wikia is not accessible if you've made further modifications. Remove the custom ad blocker rule(s) and the page will load as expected.