Brume Tower is a location in Dark Souls II: Crown of the Old Iron King.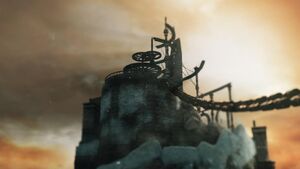 Overview
Edit
The location is actually a number of large towers set within a volcanic wasteland setting. The towers are connected by large chains that can be walked across. The largest and central tower is a giant clockwork contraption that, once activated, sets a number of elevators in motion within the tower and surrounding area, allowing further access.
Adjacent Locations
Edit
Respawning
Edit
Non-respawning
Edit
Characters
Edit
Non-playable characters
Edit
Ad blocker interference detected!
Wikia is a free-to-use site that makes money from advertising. We have a modified experience for viewers using ad blockers

Wikia is not accessible if you've made further modifications. Remove the custom ad blocker rule(s) and the page will load as expected.