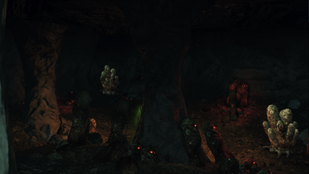 The Cave of the Dead is a location in Dark Souls II: Crown of the Sunken King.
Description
Edit
A dark cave full of Sanctum Soldiers. The walls are lined with statues which constantly spit Petrify inflicting substance at the player. The Afflicted Graverobber, Ancient Soldier Varg, and Cerah the Old Explorer are found at the end of this area.
Adjacent locations
Edit
There are no bonfires directly in the area; however, there is a bonfire named Priestess' Chamber in Shulva just before the entrance to Cave of the Dead.
Notable items
Edit
Respawning
Edit
Characters
Edit