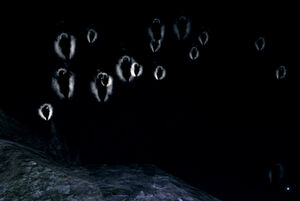 The Chasm of the Abyss is a location in Dark Souls, but can only be accessed through the Artorias of the Abyss DLC.
Adjacent Locations
Edit
Description
Edit
Located at the lower portion of Oolacile, it is found after the player exits the Oolacile Township Dungeon, and a shortcut to the Royal Wood can be opened via an elevator. In this area, the player will fight Manus, Father of the Abyss, the final boss of the DLC. At the bottom of the chasm, a circle of stones surrounding a grave can be found, alluding to the upturned grave of Primeval Man.
Characters
Edit
Respawning
Edit
Non-Respawning
Edit
Notable Items
Edit
Pyromancies
Edit
Sorceries
Edit
Upgrade Materials
Edit
Ad blocker interference detected!
Wikia is a free-to-use site that makes money from advertising. We have a modified experience for viewers using ad blockers

Wikia is not accessible if you've made further modifications. Remove the custom ad blocker rule(s) and the page will load as expected.