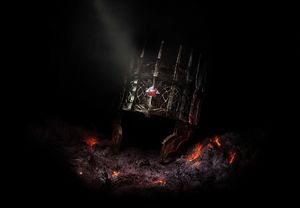 For the Crown, see Crown of the Old Iron King (helm).
"Crown of the Old Iron King is set in a massive tower engulfed by black mist where flames, smoke and sorcery lurk. Retrieve the crown of the Old Iron King, navigate paths that are not what they appear to be."
— Official summary
The Crown of the Old Iron King is the second episode of the The Lost Crowns downloadable content pack for Dark Souls II. It was released on August 26th, 2014.[1]
To access the content, defeat the Old Iron King in Iron Keep and proceed to the Primal Bonfire. Use the altar behind the bonfire to travel to the starting area. Upon loading, the Heavy Iron Key will be added to the player's inventory, which grants access to Brume Tower.
This changes in the Scholar of the First Sin edition of the game; the Heavy Iron Key can be found inside of the door opened by the Iron Key, near The Last Giant's boss room in the Forest of Fallen Giants.
Locations
Edit
Consumables
Edit
Boss Souls
Edit
Characters
Edit
References
Edit
Ad blocker interference detected!
Wikia is a free-to-use site that makes money from advertising. We have a modified experience for viewers using ad blockers

Wikia is not accessible if you've made further modifications. Remove the custom ad blocker rule(s) and the page will load as expected.