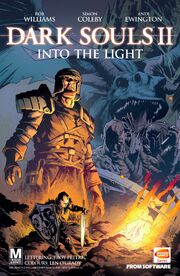 "I seek a cure. For a curse."
— Dark Souls II: Into the Light
Dark Souls II: Into the Light is a graphic novel based on the Dark Souls series. The comic is written by Rob Williams and Andi Ewington, with the art by Simon Coleby.
The first two pages of the novel were released online for free on January 8, 2014. According to Namco Bandai Games Europe, a limited print version will be created "for certain editions of the game in certain countries."[1]
Development
Edit
Into the Light was announced by Namco Bandai Games Europe on October 10, 2013 through a YouTube video which featured artist Simon Coleby drawing one of the scenes that will be featured in the comic.
The graphic novel is co-written and scripted by British comic writers Rob Williams (Ghost Rider, Dark X-Men, Cla$$war) and Andi Ewington (45) with the art provided by Simon Coleby (Judge Dredd, Rogue Trooper, The Authority). The comic is described as having "Gothic environments, unworldly monsters, eldritch atmosphere, adventure and terror".[2]
The first two pages of the comic were revealed on the official Facebook site for Dark Souls on January 8, 2014 and more pages will be revealed online each week until the release of the game in March, 2014, although a limited print version will be created as well for certain editions of the game. Into the Light is set before the events of Dark Souls II.[3]
Dark Souls II: Into the Light opens with a lone warrior encountering a man sitting next to a bonfire. The warrior tells the man that he doesn't want to cause any harm and advises him to extinguish the bonfire as quickly as possible since it could attract other people with murderous intent. The man appreciates the kind words of the warrior and invites him to sit around the fire for a while. He introduces himself as Saulden and then proceeds to ask the warrior why he has come to "these foul lands" to which the warrior only answers that he has come to find a cure for a curse.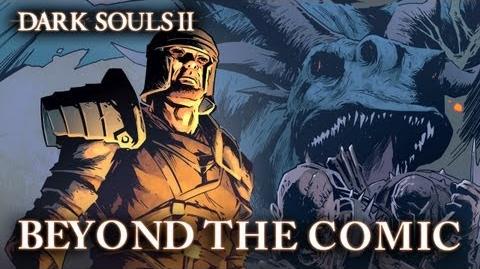 References
Edit
↑ http://www.bleedingcool.com/2013/10/12/dark-souls-ii-gets-prequel-comic-by-rob-williams-andi-ewington-and-simon-coleby/
Ad blocker interference detected!
Wikia is a free-to-use site that makes money from advertising. We have a modified experience for viewers using ad blockers

Wikia is not accessible if you've made further modifications. Remove the custom ad blocker rule(s) and the page will load as expected.