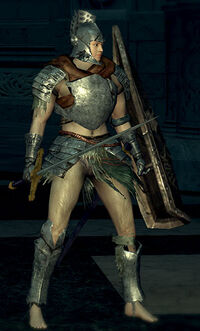 The sword wielding Darkmoon Soldier is an enemy in Dark Souls. He does not respawn post Patch.
Two Darkmoon Soldiers appear after slaying Gwynevere in Anor Londo. They are located in the main Cathedral hall.
Description
Edit
He wears the Balder Set and Balder Shield. As a weapon, he uses the Balder Side Sword. His companion wears the Steel Set and Tower Shield, and wields a Greatsword.
Character Information
Edit
Health and Souls
Edit
Health
Souls
NG
NG+
NG
NG+
767
???
5,000
15,000
Characteristics
Edit
Equipment
Edit