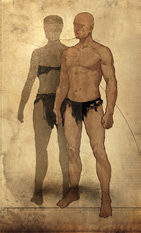 "Unclothed enigma. Only armed with club and old plank shield."
— Character Creation
The Deprived is one of the classes in Dark Souls.
With absolutely no armor and all stats at 11, the Deprived will force the beginning player to scavenge for, or purchase, a decent armor and shield. While they can use magic, the player will have to find the tools to use it. It can be good for new players who want to challenge themselves, but otherwise offers no advantages over a more specialized starting class.
Starting Equipment
Edit
Starting Statistics
Edit
Ad blocker interference detected!
Wikia is a free-to-use site that makes money from advertising. We have a modified experience for viewers using ad blockers

Wikia is not accessible if you've made further modifications. Remove the custom ad blocker rule(s) and the page will load as expected.