Devotee Scarlett is a phantom in Dark Souls II: Scholar of the First Sin.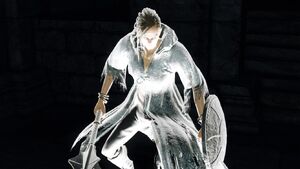 Description
Edit
Devotee Scarlett is a white phantom that the player can summon in Dark Souls II: Scholar of the First Sin.
She will focus on melee combat and can soak up a lot of damage.
Locations
Edit
Equipment
Edit
When summoned at Earthen Peak, she will gesture the player upon reaching the windmill, using "I won't bite" and "Point" to indicate to players that they should use a Torch on the windmill to drain the poison in Mytha, the Baneful Queen's boss arena.
Ad blocker interference detected!
Wikia is a free-to-use site that makes money from advertising. We have a modified experience for viewers using ad blockers

Wikia is not accessible if you've made further modifications. Remove the custom ad blocker rule(s) and the page will load as expected.