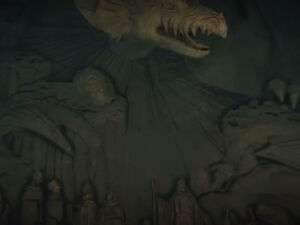 Dragon's Rest is a location in Dark Souls II: Crown of the Sunken King.
Description
Edit
The Dragon's Rest is a small area accessed immediately upon reaching ground level after descending from the Dragon's Sanctum and which serves mainly to host the two Crown of the Sunken King bosses, the first being Elana, the Squalid Queen. Upon defeat, the wall in the back of her room will open, revealing a tunnel that leads down to a bonfire and a second fog door. Inside sleeps Sinh, the area's final boss.
The area itself is a damp cave which opens high above. In the center is a square shrine surrounded by obelisks. Around the cavern are destructible stalagmites and numerous stalactites hang from the ceiling.
Adjacent locations
Edit
Characters
Edit
Notable items
Edit
Ad blocker interference detected!
Wikia is a free-to-use site that makes money from advertising. We have a modified experience for viewers using ad blockers

Wikia is not accessible if you've made further modifications. Remove the custom ad blocker rule(s) and the page will load as expected.