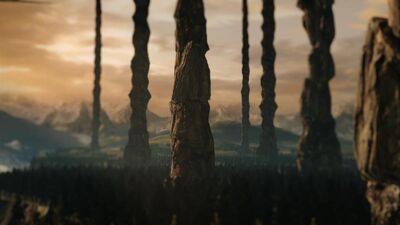 Dragon Aerie is a location in Dark Souls II.
Description
Edit
Dragon Aerie is a rather short area, with only one bonfire. Located high above the surface of the earth, numerous columns of rock, connected by rope bridges, play home to the kin of the Guardian Dragon fought at Aldia's Keep. Each of the dragon nests harbors numerous Crystal Lizards that drop Titanite Chunks, Slabs, Twinkling Titanites and Petrified Dragon Bones, among other stones.
After defeating the Guardian Dragon in Aldia's Keep, the player makes their way through the Dragon Aerie in order to reach the Dragon Shrine and receive the Ashen Mist Heart. The player will have to navigate across swaying bridges, and watch their footing around perilous cliffsides and sudden drops.
Adjacent Locations
Edit
Respawning
Edit
Non Respawning
Edit
Be wary of breaking the grayish white dragon eggs in this area. If too many eggs are broken, simply use the Aged Feather or travel from a bonfire to another location (a loading screen must take place) to reset the egg count. Just resting at a bonfire won't reset them.

Break 3 eggs - All Guardian Dragons will get a power boost.
Break 7 eggs - There will be a time limit for crossing the bridge that leads to the Dragon Shrine, before it gets destroyed.
Break 10+ eggs - The bridge is destroyed and you have no chance of crossing.

Using a Bonfire Ascetic here is recommended because it will respawn the Crystal Lizards.
Upon coming to the final rope bridge, the player may first opt to use the zip-line to unlock the shortcut to and from the bonfire before proceeding across the bridge (keep in mind that if you break a lot of eggs you will not be able to cross the bridge; you can rest at a bonfire or die to restore the eggs).
If you stay on the bridge leading up to the Dragon Shrine too long, the dragon will come down and crush the bridge.
The screen may glitch out and begin flashing white and black in most of Dragon Aerie, this can be fixed by quitting and restarting the game.
Ad blocker interference detected!
Wikia is a free-to-use site that makes money from advertising. We have a modified experience for viewers using ad blockers

Wikia is not accessible if you've made further modifications. Remove the custom ad blocker rule(s) and the page will load as expected.