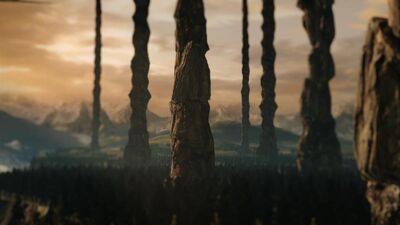 Dragon Aerie is a location in Dark Souls II.
Description
Edit
Dragon Aerie is a rather short area, with only one bonfire. Located high above the surface of the earth, numerous columns of rock, connected by rope bridges, play home to the kin of the Guardian Dragon fought at Aldia's Keep. Each of the dragon nests harbors numerous Crystal Lizards that drop Titanite Chunks, Slabs, Twinkling Titanites and Petrified Dragon Bones, among other stones.
After defeating the Guardian Dragon in Aldia's Keep, the player makes their way through the Dragon Aerie in order to reach the Dragon Shrine and receive the Ashen Mist Heart. The player will have to navigate across swaying bridges, and watch their footing around perilous cliffsides and sudden drops.
Adjacent Locations
Edit
Respawning
Edit
Non Respawning
Edit
The screen may glitch out and begin flashing black and white in most of Dragon Aerie, this can be fixed by quitting and restarting the game.