The Dragonslayer Greataxe is a unique greataxe in Dark Souls III.
In-Game Description
Melted iron greataxe that once formed part of the Dragonslayer Armour.
Thickly imbued with the power of lightning. Use skill to draw upon the techniques used to slay the archdragons.
Skill: Falling Bolt
Hold axe high in air to gather fierce lightning, and smash ground to whip the bolts to the ground.
Availability
Edit
Obtained by transposing the Soul of Dragonslayer Armour with Ludleth of Courland.
Characteristics
Edit
Reinforced with Titanite Scale.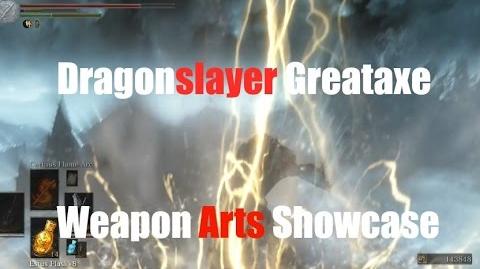 Ad blocker interference detected!
Wikia is a free-to-use site that makes money from advertising. We have a modified experience for viewers using ad blockers

Wikia is not accessible if you've made further modifications. Remove the custom ad blocker rule(s) and the page will load as expected.