The Drakeblood Greatsword is a greatsword in Dark Souls III.
In-Game Description
Greatsword wielded by an order of knights who venerate dragon blood.
This sword, its blade engraved with script symbolizing dragon blood, inflicts magic and lightning damage.
Skill: Stance
While in stance, use normal attack to break a foe's guard from below, and strong attack to slash upwards with a forward lunge.
Availability
Edit
Found in Archdragon Peak. Guaranteed drop from the first Drakeblood Knight spawned by the Serpent-man Summoner in the Dragon-Kin Mausoleum.
Characteristics
Edit
Drakeblood can be reinforced with Titanite.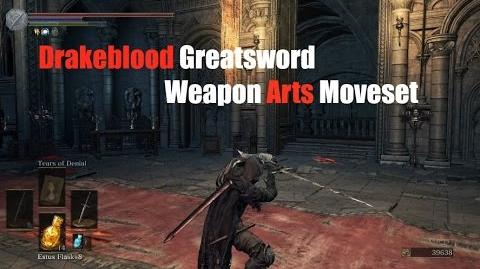 Ad blocker interference detected!
Wikia is a free-to-use site that makes money from advertising. We have a modified experience for viewers using ad blockers

Wikia is not accessible if you've made further modifications. Remove the custom ad blocker rule(s) and the page will load as expected.