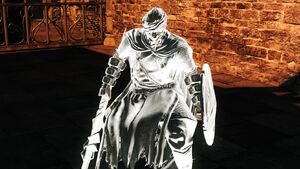 Drifter Swordsman Aidel 
is a 
character
in
Dark Souls II: Crown of the Old Iron King.
Description
Edit
Drifter Swordsman Aidel is a white phantom available for summoning in the Iron Passage and Memory of the Old Iron King. He dons the Prisoner's Hood , Engraved Gauntlets , Grave Warden robes, and is armed with a Stone Twinblade along with a Stone Parma.
His sign is located right after the Iron Hallway Entrance bonfire.
In Scholar of the First Sin he can be summoned in Belfry Sol just to the left of the entrance, this is probably to help the player against Grey Spirit invaders. 
He sometimes uses gestures and carvings and can easily be mistaken for another player.
Ad blocker interference detected!
Wikia is a free-to-use site that makes money from advertising. We have a modified experience for viewers using ad blockers

Wikia is not accessible if you've made further modifications. Remove the custom ad blocker rule(s) and the page will load as expected.