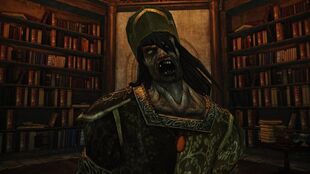 Duke Tseldora
is an
enemy
in 
Dark Souls II
.
Duke Tseldora is found in the Lord's Private Chamber after defeating The Duke's Dear Freja in Brightstone Cove Tseldora.
Giving him no quarter is the most effective way to beat him as he will have his back turned, leaving him open for a few easy hits and allowing him to be staggered rather easily, which means the player can easily staggerlock him to death.
Duke Tseldora was the proprietor of Brightstone Cove and founder of the mining town which once flourished there. He disappeared after the town was suddenly and mysteriously overrun by spiders, and he was never heard from again. Though the circumstances surrounding the Cove's destruction remain unclear, the murky truth behind the Duke's disappearance seems somehow related to his unnatural obsession with spiders.
Ad blocker interference detected!
Wikia is a free-to-use site that makes money from advertising. We have a modified experience for viewers using ad blockers

Wikia is not accessible if you've made further modifications. Remove the custom ad blocker rule(s) and the page will load as expected.