Eleonora is a unique axe in Dark Souls III.
In-Game Description
A strange weapon found among malformed inhabitants of the Profaned Capital.
The Profaned Flame was triggered by the curse of these women, relatives of a certain oracle, but despite their culpability, they went on living without any cares.
Skill: Feast Bell
Hold up axe and wave to emit a solemn chime to temporarily make weapons lacerating, and to restore HP for each hit.
Availability
Edit
Found in the Profaned Capital. Guaranteed drop from the already awaken Monstrosity of Sin found in the lower room of the church that lies in the toxic swamp.
Characteristics
Edit
Restores HP on each successful hit.
Reinforced with Titanite Scale.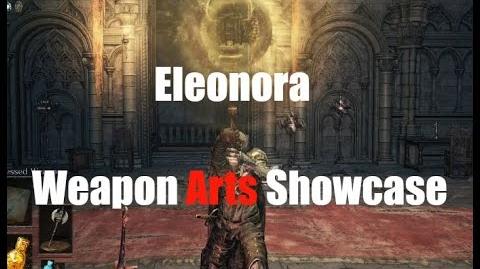 Ad blocker interference detected!
Wikia is a free-to-use site that makes money from advertising. We have a modified experience for viewers using ad blockers

Wikia is not accessible if you've made further modifications. Remove the custom ad blocker rule(s) and the page will load as expected.