The Firelink Greatsword is a unique greatsword in Dark Souls III.
In-Game Description
The Lords of Cinder linked the First Flame, and this Greatsword was wielded by their deific manifestation.
This coiled sword, found thrust in the bonfire, existed long before the throneless lords themselves.
Skill: Ember
The fading flame momentarily illuminates and launches itself forward.
Availability
Edit
Obtained by transposing the Soul of the Lords with Ludleth of Courland.
Characteristics
Edit
Reinforced with Titanite Scale.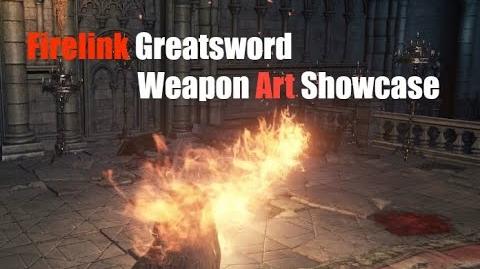 Ad blocker interference detected!
Wikia is a free-to-use site that makes money from advertising. We have a modified experience for viewers using ad blockers

Wikia is not accessible if you've made further modifications. Remove the custom ad blocker rule(s) and the page will load as expected.