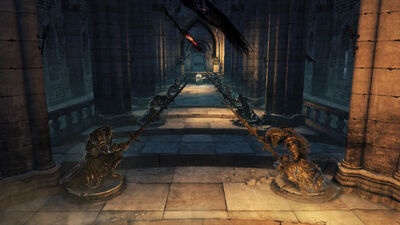 The King's Passage is a location in Dark Souls II.
Description
Edit
The King's Passage is a long corridor extending from the adjoining room past the Central Castle Drangleic bonfire, which serves as a connecting passage to the Shrine of Amana. Filled with broken windows and pillars, this part of the castle is filled with what remains of Velstadt's royal soldiers, flanking either side of the path atop stone perches. This passage once served as the final test awaiting those who wished to serve in Vendrick's royal guard, by testing their might against the Looking Glass Knight.
Now, this desolate and decrepit part of the castle serves as the home for the Looking Glass Knight, who to this day awaits worthy foes and defends the road to the Shrine, ensuring only the worthy may pass.
Adjacent locations
Edit
Characters
Edit
Respawning
Edit
Ad blocker interference detected!
Wikia is a free-to-use site that makes money from advertising. We have a modified experience for viewers using ad blockers

Wikia is not accessible if you've made further modifications. Remove the custom ad blocker rule(s) and the page will load as expected.