Ad blocker interference detected!
Wikia is a free-to-use site that makes money from advertising. We have a modified experience for viewers using ad blockers

Wikia is not accessible if you've made further modifications. Remove the custom ad blocker rule(s) and the page will load as expected.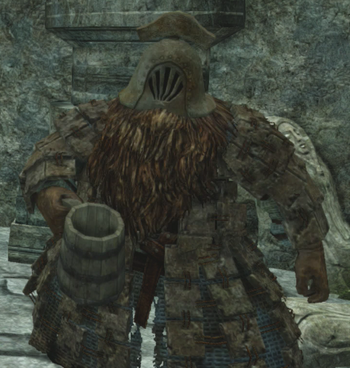 "With Gavlan, you wheel? You Deal! Gah hah!"
— Lonesome Gavlan
  Lonesome Gavlan is a character and merchant in Dark Souls II.
Lonesome Gavlan is initially found in No-Man's Wharf, on the second floor of a building occupied by several Dark Stalkers.
After meeting him in No-man's Wharf, he'll relocate to one of the first caves in Harvest Valley.
Finally, after talking to him in Harvest Valley, he'll stay at Doors of Pharros, up the stairs outside of the Gyrm Respite bonfire.
Lonesome Gavlan is initially found in No-Man's Wharf, on the third floor of the leftmost building located after dropping down from a series of platforms after ringing the bell. He can be found besides the pulling ring which opens the gate that connects the wharf's two main areas.
He's the only merchant whom the player can sell items to, similar to Kingseeker Frampt from Dark Souls. After purchasing 16,000 souls worth of merchandise from him, he'll give the player the Gyrm Greataxe after talking to him. 
Character Information
Edit
Health and Souls
Edit
Click to see Dialogue (Contains Spoilers)
| | |
| --- | --- |
| Introduction | Who you? I Gavlan. Gavlan wheel? Gavlan deal. Gavlan want soul. Many many soul. Gah hah! What you want? With Gavlan, you wheel? You deal! Gah hah! |
| Talk x1 | Gavlan wheel? Gavlan deal. Gavlan want soul. Many many soul. Gah hah! What you want? With Gavlan, you wheel? You deal! Gah hah! |
| Talk after spending 16,000 souls | With Gavlan you deal, much much deal! These you take. Ah for you. |
| Leaving after purchasing or selling | Many deal...Many thanks! Gah hah! |
| Leaving without purchase | You? Go home? |
| Meeting in Harvest Valley | Ummm...Gavlan know you. |
| Meeting in Doors of Pharros | Make deal with Gavlan! |
| Attacking him | Umm? |
| Causing him to retaliate | Umm...You strong. |
| Killing him | No dialogue |