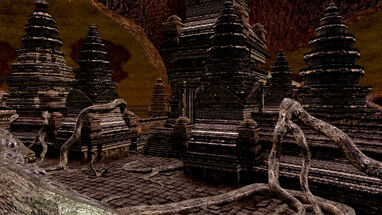 Lost Izalith is a location in Dark Souls. It is found beyond the Centipede Demon's room, or right before the Demon Firesage if you activate the Chaos Servant shortcut.
Description
Edit
Lower Lost Izalith is a magma rich environment, thus the Orange Charred Ring will be needed to traverse much of the area safely if the shortcut is not used. The natural path is reached by making one's way through the Demon Ruins and entering the tunnel to the left of the Centipede Demon fog door.
Izalith was once the domain of the Witch of Izalith, and seemingly a great and booming city. The Witch attempted to recreate the First Flame from her own Lord Soul, which failed and produced the Bed of Chaos. Izalith was subsequently overrun by demons born from the Bed of Chaos. The demons fought against Gwyn, Lord of Sunlight and his knights, and were contained to their fallen city.
Characters
Edit
Characters
Edit
Respawning
Edit
Non-Respawning
Edit
Notable Items
Edit
Miscellaneous
Edit
Pyromancies
Edit
Upgrade Materials
Edit