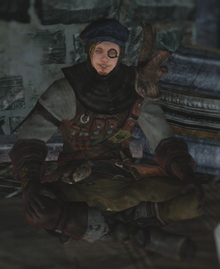 Magerold of Lanafir is a character and merchant in Dark Souls II.
Magerold of Lanafir can be found sitting in the same manner as the Undead Male Merchant from Dark Souls, surrounded by his belongings and wares in a side corridor near the first bonfire in the Iron Keep. 
Magerold is mainly a treasure hunter scavenging the Iron Keep for any valuable items, however, he has come too late, seeing that previous comers have already picked the area clean. Magerold can induct players into the Dragon Remnants covenant if they have a Petrified Egg in their inventory.
Character Information
Edit
* Available once Threshold Bridge bonfire in Iron Keep is intensity 2.
** Available after defeating Sir Alonne in the Memory of the Old Iron King.
*** Available after defeating Fume Knight in Brume Tower.
Health and Souls
Edit
Health
Souls
NG
NG+
NG
NG+
1,560
2,808
1,650
3,300