"This is Majula, it is a kind of settlement; a place where life is, almost, normal. And in Drangleic these days, there are very few places like that."
— Saulden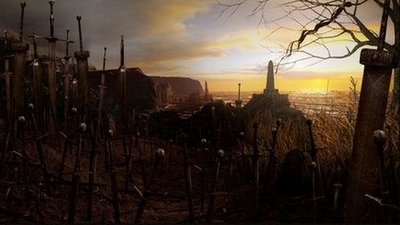 Majula is a location in Dark Souls II.
Description
Edit
Majula is a small rural town located next to the coast. There are some landmarks in Majula, such as a small tower on the edge of town, a mansion where a map of Drangleic can be found, and a deep pit in the center with tunnels - accessible by ladder - leading to the Grave of Saints and The Gutter.
Majula acts as the main hub, or base, for the player character during the events of the game, much like the Nexus in Demon's Souls and the Firelink Shrine in Dark Souls. Once the player rescues or meets an NPC, said character will often be encountered again in Majula. Some of the rescued characters will offer their services to the player. Majula holds the first accessible merchants, blacksmith, and covenants.
Located on the edge of Drangleic, Majula has become a destination for the survivors of Drangleic who have lost their home, as well as a temporary shelter for travelers and drifters who have ventured into the treacherous land. The shattered remains of the Lordvessel are located within the lowest level of the abandoned mansion.[1]
Adjacent locations
Edit
Covenants
Edit
Characters
Edit
Respawning
Edit
Non-Respawning
Edit
Miscellaneous
Edit
Upgrade Materials
Edit
References
Edit
↑ Information on the world setting and characters disclosed by From Software.