The Malformed Skull is a great hammer in Dark Souls II.
In-Game Description
The skull of some unidentified creature. Swing as a great hammer to use as a weapon.
Possibly the skull of a dragon. A rare specimen, likely too rare to be swung about willy-nilly.
Availability
Edit
Enhanced Undead - Drop
Characteristics
Edit
Has extremely low durability (can be completely broken only by two strong attacks).
Raw Malformed Skull+10 has 598 pure physical damage.
Enchanted infusion add a C scale from intelligence (but anyway, the damage will be less than in the raw infusion).
Very good for any elemental infusion (for example, with lightning infusion it has 364 physical + 364 lightning damage. Under Sunlight Blade it has 364+364+159=887 AR).
Has the best ratio of weight \ damage in the game for its class.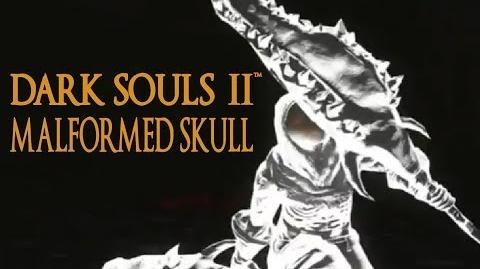 Ad blocker interference detected!
Wikia is a free-to-use site that makes money from advertising. We have a modified experience for viewers using ad blockers

Wikia is not accessible if you've made further modifications. Remove the custom ad blocker rule(s) and the page will load as expected.