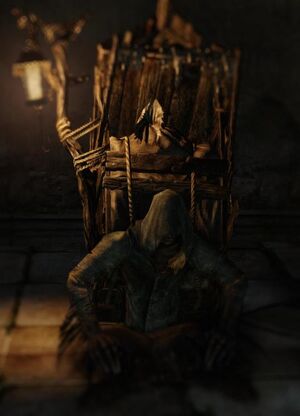 "You may travel light, but methinks you bear a burden of your own."
— Merchant Hag Melentia
Merchant Hag Melentia is a merchant in Dark Souls II. She is voiced by Marcia Warren.
Found in the Forest of Fallen Giants, next to the Cardinal Tower bonfire.
After exhausting all of her dialogue and defeating The Last Giant boss, she moves to Majula, and settles on the left of the bonfire next to the wall.
She sells various wares to the player including pieces of armor, weapons and sorceries. She will also sell the armor sets and weapons of certain characters if the player has killed them. If the player speaks to her, she provides some information about Drangleic's backstory. Melentia also sells Lenigrast's Key, which opens Blacksmith Lenigrast's workshop in Majula, allowing the player to use his smithing services.
The Covetous Silver Serpent Ring +1 can be gifted to the player by spending 10,000 souls in her shop and exhausting her dialogue.
It costs 4,000 souls to revive her.
The traveling merchant Melentia is one of the few Drangleic survivors. She is always seen carrying her wares on her back. Melentia also seems to be slowly losing her mind.
When she becomes hostile, she can inflict Curse buildup, instantly turning the player Hollow if the meter should fill.
Character Information
Edit
Health and Souls
Edit
Health
Souls
NG
NG+
NG
NG+
560
1,412
750
???
Click to see Dialogue (Contains Spoilers)
| | |
| --- | --- |
| Greetings | Buy something, anything... Come, now... help an old woman... Keh heh heh... |
| Greetings x2 | Oh, you again. Go on... it's on the cheap for you... Keh heh heh... |
| Greetings x3 | Buy something, anything... Don't abandon a poor old woman... I knew you'd be back. |
| Talk | My name is Melentia. You a stranger to this land? All we get is strangers these days. Everybody's gone and run off! Drangleic's been a pile o'rubble since the war fought long, long ago. When the Giants crossed the sea. |
| Talk x2 | Seemed like the battles would never end. Poor folk like myself had nary a place to sleep. That's why I keep all me things right with me. You may travel light, but methinks you bear a burden of your own. |
| Talk x3 | Everyone's so stingy around here. Everyone's so stingy everywhere! You're my only customer. Don't make me beg, now, buy something! |
| Talk x4 | We call this place Majula. Not too special, if you ask me. It's just the place where everyone seems to end up. Keh heh heh... |
| Upon purchasing | Thank you kindly. Keh heh heh... |
| Upon purchasing x2 | It's high time that I pick up and move. I've a bargain for you, next time we meet, my love. |
| Leaving without purchasing anything | Lowly times, these are... |
| Leaving abruptly | Keh heh heh... |
| Attacking her | Keh heh heh... You've no respect! Die, you rotten lout! I'll have your guts for garters! |
| Killing the player | Cruel, cruel world this is... Keh heh heh... |
| Killing her | Keh heh heh... That's not very nice is it?... Keh heh heh... |
During the Network Test, Melentia was located in Huntsman's Copse, next to the first bonfire.
Ad blocker interference detected!
Wikia is a free-to-use site that makes money from advertising. We have a modified experience for viewers using ad blockers

Wikia is not accessible if you've made further modifications. Remove the custom ad blocker rule(s) and the page will load as expected.