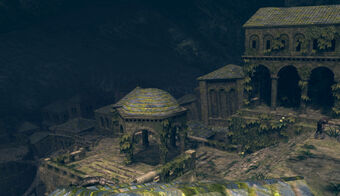 Oolacile Township
is a
location
in
Dark Souls
that is part of the 
Artorias of the Abyss
DLC.
Description
Edit
The Oolacile Township is the area found right after the Royal Wood and starts with the coliseum that serves as an arena for the fight with Knight Artorias.  It's infested with Bloatheads and Bloathead Sorcerers and can be difficult at first; since the area is mostly made of narrow stairways and their attacks can easily push the player or quickly deplete HP.
Although Knight Artorias is fought here, Manus, Father of the Abyss acts as the area boss for the Oolacile Township, Oolacile Township Dungeon, and the Chasm of the Abyss for summoning and invasion purposes.
Characters
Edit
Characters
Edit
Respawning
Edit
Non-Respawning
Edit
Notable Items
Edit
Miscellaneous
Edit
Sorceries
Edit
Upgrade Materials
Edit
Ad blocker interference detected!
Wikia is a free-to-use site that makes money from advertising. We have a modified experience for viewers using ad blockers

Wikia is not accessible if you've made further modifications. Remove the custom ad blocker rule(s) and the page will load as expected.