Painted World of Ariamis
Comments

38
1,290pages on
this wiki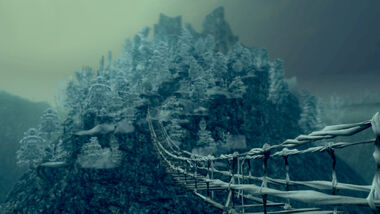 The Painted World of Ariamis is an optional location in Dark Souls, accessible through Anor Londo.
In order to enter this world, the player will first need to pick up the Peculiar Doll located in the Northern Undead Asylum (in the player's initial prison cell), upon the return visit later in the game. When examining the large guarded painting in Anor Londo, the player will be mysteriously pulled into the cloistered area.
Description
Edit
The Painted World of Ariamis, which as the name suggests, was created by Ariamis.[1] It is a snow coated land with an old structure, resembling a cathedral, high atop a mountain and surrounded by cliffs.
There are a total of ten types of enemies in this area, including the boss, a few of which are only found here. There are a few items worth picking up in this area, including two pyromancy spells.
Priscilla the Crossbreed, the boss of the area, will not begin attacking straight away, instead imploring the player to leave her world. Unless the player jumps off the ledge behind Priscilla, it is impossible to leave the Painted World of Ariamis, even with the Lordvessel's warp ability or through use of a Homeward Bone or the Homeward miracle.
If Priscilla is attacked, attempting to leave by jumping off the ledge will only result in death. The only way to leave the world at this point is to kill her.
Black Phantom
Edit
Black Phantom Xanthous King, Jeremiah will invade unhollowed players that venture into the graveyard to the right of Phalanx. Once defeated, he drops a Notched Whip, and defeating him allows the player to obtain the Xanthous Set from a corpse just before the world's exit.
After exiting the Painted World safely, casting Homeward or using a Homeward Bone will return the player to the bonfire in Anor Londo, near the Darkmoon Knightess, and not the bonfire within the Painted World.
Later warping to the Painted World via use of the Lordvessel and using Homeward or a Homeward Bone will cause the player to be taken to the last outside bonfire rested at, so long as one does not rest at the bonfire within the Painted World of Ariamis. This method only works if warping into the Painted World through use of the Lordvessel, and will therefore be impossible if entering for the first time.
Respawning
Edit
Characters
Edit
Minibosses
Edit
Notable Items
Edit
Miscellaneous
Edit
Pyromancies
Edit
Upgrade Materials
Edit
References
Edit
↑ Crossbreed Priscilla dialogue