For the Dark Souls variant, see Painting Guardian Sword.
The Painting Guardian's Curved Sword is a curved sword in Dark Souls III.
In-Game Description
A weapon described in legends passed down amongst heretics, wielded by the Painting Guardians.
A uniquely shaped weapon with a flat tip.
Skill: Chained Dance
Execute relentless consecutive attacks while tracing a circle in a unique dance of deadly grace.
Availability
Edit
Found in Irithyll of the Boreal Valley, on a corpse in the tower of the Church of Yorshka. To get to the top of the tower, one must use the spiral staircase in Anor Londo and walk off an invisible path to the tower. The easiest way to find the path is to raise the staircase to its highest position and then walk off the lower path.
Characteristics
Edit
The Painting Guardian's Curved Sword is a low-weight weapon that requires little stamina to swing. However, it has a reach more akin to that of a dagger than a curved sword. It also possesses high dexterity scaling, despite being a standard titanite weapon, as well as a respectable amount of Bleed build-up.
The sword meshes poorly with elemental infusions due to its low base damage and the fact that its high scaling does not carry over to the elemental damage scaling. Due to this, it is recommended to infuse the weapon with a physical damage gem, after which it can be buffed to deal additional elemental damage.
Reinforced with Titanite.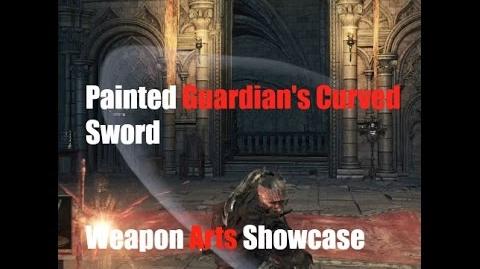 Ad blocker interference detected!
Wikia is a free-to-use site that makes money from advertising. We have a modified experience for viewers using ad blockers

Wikia is not accessible if you've made further modifications. Remove the custom ad blocker rule(s) and the page will load as expected.