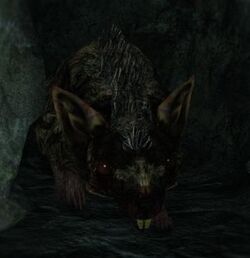 For the covenant, see Rat King (covenant).
The Rat King is a character in Dark Souls II. He is voiced by Steven Pacey.
Locations
Edit
The Rat King can be found in two locations, the Grave of Saints and the Doors of Pharros. He will appear to the player in the rooms found after the boss fights.
Description
Edit
The Rat King is the leader of the Rat King covenant. To reach him, the player must defeat the Royal Rat Vanguard in the Grave of Saints, or the Royal Rat Authority in the Doors of Pharros. He will appear in the room directly behind the boss arenas and if the player joins the covenant, he will grant them the Crest of the Rat, allowing them to defend the Grave of Saints.
He looks nearly identical to the standard rats; however, he possesses the ability to communicate with the player. Personality wise, he seems to be opportunistic, as when spoken to after conquering a burrow, he offers the player a chance to join him in spite of his subjects being killed. The more Rat Tails that are offered, the kinder and less loathing toward humans he becomes. He also even mentions peace between the rats and humans, showing more care toward the future of his kind and kingdom than spitefulness.
The Rat King is the leader of the rats. In ages past, the Rat King struck an accord with a human chieftain which stated that the humans would rule the lands lapped by the sun's rays and the rats all that was below. However, humans broke their promise and hunted the rats down in their burrows. This left the Rat King bitter and hateful toward humans, declaring them to be nothing more than fools, liars and cheaters.
If the Bearer of the Curse can conquer one of the Rat King's burrows, he will permit them to serve him, despite the fact they are human. If they serve him well, it may prove to the Rat King that not all humans are worthless and give him hope that perhaps rats and humans may one day coexist in peace together once more.
Click to see dialogue (contains spoilers)
| | |
| --- | --- |
| Upon Meeting | Leave this place, human. We have no time for thy kind. Humans bring nothing but filth. |
| With Rat Tail | Is that a rat tail human? Thou'st one of mine rat burrows conquered. This will not go unnoticed. Rejoice, for the right to serve me is now thine. Since thou'rt human still... permit me ask. Wilt thy human soul surrender and pledge thyself to me? Swearest thou by the sweet-tempered sludge that laps at our bosoms? |
| Joining Covenant | Thou hast the eyes of one who percieveth true beauty. Human, thou mayest serve. Take this ring. It was forged by a human who was once among us. |
| Giving the Crest of the Rat | The ring draws to thee who would defile our burrow. Wear the ring whenever thou'rt near, and destroy those who would dare provoke our ire. I will grant unto thee all thou should desire. I prithee serve with a true rat's honour. |
| Greeting x1 | Speak thy mind servant. |
| Talk x1 | The insolent fools line up to trample upon our burrows. My servant, dispatch thee invaders and thy reward will be handsome indeed. |
| Talk x2 | Knowest thee of the lockstones? Those odd contraptions fashioned by human hand long ago. Thou art human, and thence able. I know thy kind, base plotters and schemers all. Put these contraptions to thy employ 'gainst thy foe. |
| Talk x3 | My servant, tell me the way of things. There has been much honour in thy service, despite the human blood coursing through thy veins. I am merciful, and trust in thee as I would any rat. |
| Declining covenant offer for a second time | Then we need consort no longer. |
| After declining covenant offer and having no Rat Tail in inventory | Thy welcome wearest thin. Leave this place. |
| Covenant Rank +1 | I am aware of thine accomplishments, and they are not few. Long ago, I struck an accord with a human chieftain. 'Twas agreed, humans would rule the lands lapped by the sun's rays, and rats all that was below. But humans are liars all, schemers and cheats. Thou art from a different cloth cut. Do not disappoint me. |
| Covenant Rank +2 | Thy deeds are known to me. Still, there is ever more work to be done. Humans are full of greed. The time came they broke their world and hunted us down. I had their word the underworld was ours to rule, untouched as it is, by the rays of the sun. The more humans coveted, the more blinded they became as to what truly mattered, and that is why I pity the fools called humans. My servant, human scent lingers upon thee yet. Rid thyself of it, if thou canst. |
| Covenant Rank +3 | My servant, well met indeed. 'Twould seem some sunlight poisoned creatures are worthy of great honour. Thou'st permitted me to dream. One day, rats and humans may live and die together, in peace. |