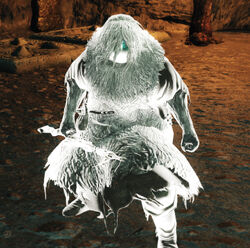 Ruined Aflis is a phantom in Dark Souls II: Crown of the Sunken King. He is summonable for the Cerah, Varg, and Afflicted Graverobber boss fight.
Information
Edit
He wears the Dragon Sage Hood with the Dragon Acolyte Robe, Dragon Acolyte Gloves, and Dragon Acolyte Boots. He wields the Bat Staff and will cast Cast Light the moment he spawns in, and recast it whenever he runs out, regardless of whether or not he's being attacked.
Scholar of the First Sin
Edit
In Scholar of the First Sin, Ruined Aflis can be summoned as a shade in the dark corridor before the area with Armorer Dennis (Soldier Key required) in the Forest of Fallen Giants and can be enlisted for the Pursuer boss fight.