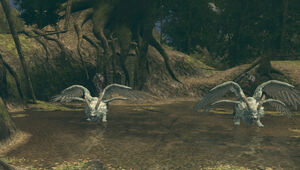 The
Sanctuary Garden
is a
location
in
Dark Souls
, but can only be accessed in the
AotA
DLC.
General Information
Edit
The Sanctuary Garden is part of Oolacile and is the first location which the player travels through in the Artorias of the Abyss DLC. It is home to the Sanctuary Guardian, who is encountered after walking through the first fog wall.
It is a relatively small location, as it consists of only two parts: the first bonfire and the boss fight arena.
Respawning
Edit
Lesser Sanctuary Guardian (only after defeating the Sanctuary Guardian, and returning to the area later)
Ad blocker interference detected!
Wikia is a free-to-use site that makes money from advertising. We have a modified experience for viewers using ad blockers

Wikia is not accessible if you've made further modifications. Remove the custom ad blocker rule(s) and the page will load as expected.