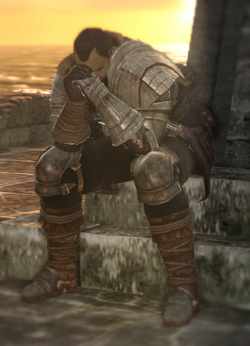 "Life is a journey... And every journey eventually leads to home..."
— Saulden, the Crestfallen Warrior

Saulden, the Crestfallen Warrior is a character in Dark Souls II, and in the comic Dark Souls II: Into the Light.
He is voiced by Matt Morgan, who also voiced the Crestfallen Warrior and Domhnall of Zena in Dark Souls.
Description
Edit
Saulden wears the Knight Armor and Gauntlets, the Wanderer Boots and no helm. In the comic and in early screenshots, he wears the Warrior Set. He's the spiritual successor of the Crestfallen Warrior from the previous game. While he is still as depressed and hopeless as his predecessor, Saulden seems to have a slightly friendlier personality, offering helpful advice to those in need.
Saulden will give you certain gifts after meeting some criteria:
Saulden also drops a Ring of Steel Protection upon death.

Dark Souls II: Into the Light
Edit
A lone warrior bearing a curse meets Saulden when the latter is resting at a bonfire. Saulden decides to invite the warrior to sit around the fire for a while. After a brief conversation, the undead warrior decides to continue his quest, although Saulden tries to convince him to stay for a little longer in order to share some of his knowledge with him. The warrior, however, refuses his offer, deeming that his sword "belongs to a crestfallen man who hides by his fire".
Soon, the same warrior returns, bloodied and dying. Using his blood, the bearer desperately writes a summon sign into the ground before dying, his corpse fading away. Moments later, the warrior is reincarnated. Saulden then asks if the warrior will listen to his advice this time. The warrior replies with "I will."
Dark Souls II
Edit
Saulden is met for the first time in Majula, sitting next to an obelisk-like structure near the coast. Upon talking to him, he reveals some information about Drangleic and he gives the player some directions and hints about where to go next. Saulden also invites the player to join the Way of Blue covenant, so that the Blue Sentinels can come to the player's aid whenever they are in trouble.
Character information
Edit
Health and souls
Edit
Health
Souls
NG
NG+
NG
NG+
1,320
3,327
800
1,600
Click to see dialogue
Introduction
You're... Undead, aren't you? You have that distinct scent. The smell of irreversible fate... This is Majula, it is a kind of settlement; a place where life is, almost, normal. And in Drangleic these days, there are very few places like that.
Speaking after introduction
I am Saulden... and like you I lost everything... and now I'm here. You probably heard that it was possible to break the curse here. Well... that's not true at all... there's nothing here, for you, me, or anybody.
Speaking ×3
Do you know much about Souls? Even I'm not certain, but... I'm told that the soul is the essence of life itself. Anything living, sentient or no, supposedly has one. What we call the curse is traceable to the soul... do you see what that means? To be alive... to walk this earth... that's the real curse, right there. We Undead, will never die... and that's quite a predicament, really...
Speaking ×4
There are four beings in this land with Giant souls, and wherever you go from here, you'll sooner or later come up against them. Each has a powerful soul... and a terrible curse. If that frightens you, then you ought to just give up right now... like I have... hah hah hah hah.
Speaking ×5
Do you ever cry out for help? The journey of an Undead is long and treacherous... you'll face invaders from other worlds at every turn. If you need help, why not proclaim faith in the Blue Sentinels? When you face danger, the Blue Sentinels will come to your aid... protection is yours, if you wish... you need only accept their kind embrace.
Speaking after covenant prompt
That is a wise decision. People are weak... But the Blue Sentinels watch over us in their benevolence. Let the Sentinels cradle you in their embrace.
I see. Then you'll have to brave this treacherous journey on your own. If you ever require help... come back, any time. I will stay here, and pray for your safety.
Speaking after covenant decision
Do you feel... lonely, here? It suits me just fine... as I've nothing left, anyway. It will grow on you, this place... give it some time.
Speaking about the Forest of the Giants
Do you see the way beyond the bonfire? That will take you to the forest of the giants. There was once a great fort... but, little of it remains... you may just find something there that will be of use on your journey. But don't venture too far inside... or you might not come back.
Speaking about Heide's Tower of Flame
Heide's Tower of Flame lies beyond the far gate... in the cathedral, the Apostles of Blue gather... but the road leading there is perilous; the gate is rigged with some contraption, but how it works... I just don't know.
Speaking about the pit
Have you seen that pit, that gaping hole in the earth? I don't know what it's like down below... but I wouldn't suggest trying to find out. Besides, you'll never make it down there... not without a ladder of some sort.
Speaking about bonfires
The flame you see there, is a bonfire... they exist all across the land... beacons to we, Undead. If you are tired, try resting beside the flame... the flame, heals us.
Speaking about bonfires ×2
Long ago, a woman called a Fire Keeper watched over each bonfire... she kept the flame lit, and guarded it from those who would extinguish it... I wonder where the Fire Keepers went...
Speaking about messages
Did you notice any letters on the ground on the way here? These are messages that have jumped the fissures between worlds... in Drangleic, the flow of time is convoluted... things shift and waver, twist and turn... poignant wishes, dashed dreams. The messages convey our very inner thoughts; if your will to solider on falters, try leaving a message... somebody out there is sure to listen.
Speaking about Summon Signs
You may notice symbols that appear upon the ground, these are summon signatures... they call upon spirits from other worlds through the schisms in time... if you fear hollows, find summon signatures to call upon spirits to help you.
Speaking before option menu appears
You... need my help, do you?
Speaking as you leave
I will always be here... watching over you.
Speaking randomly
Life is a journey... And every journey eventually leads to home...
Speaking after meeting NPCs and corralling with them in Majula
Look at our new neighbours... how they fret over all and sundry... Oh, those were better days. Oh, dear me. It really takes me back.
Speaking after dying too much
You have died many times... yes. I understand... here, these are for you. May they help you on your travels.
Attacking him
Have you come unhinged?
Returning to fight him (after fleeing or death)
Still flirting with madness?
Half health mid-combat
What could possibly come of this?!
Being killed by him
How did this happen?
Upon killing
Finally, I will have peace...
In early screenshots and in the comic, Saulden is seen wearing the Hard Leather Set from the first game, instead of the armor set that he wears in the final version of the game. This change of armor is probably due to the developers deciding to give the Hard Leather Set to Mild-Mannered Pate instead.
He is the only "Crestfallen Warrior" in the Dark Souls series who doesn't die during his storyline.