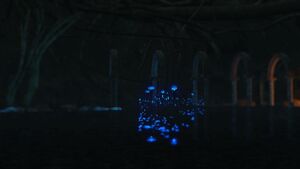 The Shrine of Amana is a location in Dark Souls II.
Description
Edit
The Shrine of Amana is a large, waterlogged cavern littered with ruined pillars and archways.
The shrine was once dedicated to sustaining the Demon of Song, long before the undead curse ravaged the kingdom of Drangleic.
Adjacent Locations
Edit
Characters
Edit
Respawning
Edit
Non-Respawning
Edit
Notable items
Edit
There is a shrine located above the last bonfire. The player must be hollow to unlock the door. This shrine can be used to reverse hollowing, but only if the player has no Human Effigies in his/her inventory or storage and is not a Sinner.
Shrine of Amana is a good location to farm Twinkling Titanite because it drops from most enemies. Equipment that raises item discovery is recommended. It's easier to start farming runs from the 3rd bonfire.