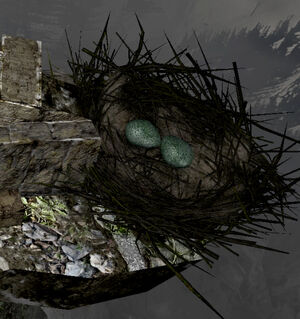 "You, you. Give me, warm. Give me, soft."
— Snuggly the Crow
Snuggly the Crow is an invisible NPC in Dark Souls. She is similar to Sparkly the Crow in Demon's Souls, in the way that particular items can be exchanged with her to receive other useful items.
Snuggly is located in the Northern Undead Asylum, on a small ridge to the right of the asylum building, right before the cliff where the Chosen Undead is grabbed by the Giant Crow and where a larger nest appears after the player returns to the Asylum from Firelink Shrine.
Many players get confused about which nest it is. The nest where Snuggly is located is not the same in which the player is dropped. Instead, walking forward about 20 feet toward the asylum and turning left will reveal the trading location. Dropping an item in the wrong nest will cause permanent loss of said item.
Exchanges
Edit
In order to exchange items with Snuggly, one must drop an item in her nest and wait for her response. If she says "...No no... that no soft... that no warm...", she won't accept it. If she does not respond, she will accept it. Successfully completing the trade can be done in many ways. The player can quit and reload, use Homeward Bone or Homeward Miracle, or fall off the ledge and return to the nest (remember to rest at the bonfire in the Asylum first). The item should be in her nest. However, each item trade can only be performed once per playthrough.
This is a table of all known trades:
It is impossible to exchange more than one item at a time in order to make multiple trades. For example, if one puts down two Bloodred Moss Clumps, one will still receive only one Twinkling Titanite. However, everything can be exchanged again during subsequent playthroughs.
Dropping two different items will result in only the first one being traded.
She is never seen or spoken to directly, similarly to Sparkly the Crow in Demon's Souls. She only speaks to the player. 
The name "Snuggly" is never heard within the game. Snuggly the Crow got her name when a Dark Souls player called her Snuggly during pre-release play testing. [citation needed]
It was once possible to trade for more items at once with a glitch. Simply put the desired item in the nest and quit the game. Reload, and before picking up the new item, place the same item again. Quit and reload, and there'll be two of the same, new items there. This can be done multiple times until the player finally picks up the items. This bug has been fixed as of patch 1.05.
Click to see Dialogue
| | |
| --- | --- |
| When approached | [cawing] You, you. [cawing] Give me, warm. Give me, soft. [cawing] |
| Dropping something that can't be traded | No, [cawing] no. That, no. [cawing] That no warm. That no soft. [cawing] |
| Dropping something that's already been traded | No, no. Not that one. [cawing] Enough, [cawing] enough. |