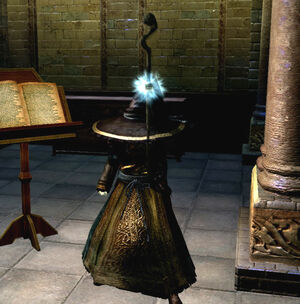 Sorcery is a form of magic in Dark Souls.
General Information
Edit
Sorceries are cast by catalysts. Catalysts usually scale with the Intelligence stat, although there is one exception.
Most sorceries can be purchased from various merchants found throughout the game. Some are found as lootable items.
There are more sorceries than either pyromancies or miracles. While pyromancies focus on offensive spells and miracles focus on defensive and healing, sorceries include a variety of utility and augmentation spells as well as a range of offensive spells.
All forms of offensive sorceries cause Magic Damage, which is typically effective against iron armor, tough scales, and other physically resilient materials.[1]
Sorcery is said to have originated with Seath the Scaleless, the "grandfather of sorcery".[2] The ancient land of Oolacile has its own sorceries, which are an "approximation" when compared to modern Sorcery[3] and are characterized by augmenting the weapon or body, rather than causing offensive damage. Manus, Father of the Abyss is the source of at least one Abyss sorcery.[4]
The other Abyss sorceries are said to be discovered by an Oolacile sorcerer on the brink of madness[5], possibly Gilleah the Hexer and differ from normal offensive sorceries, which are derived from souls, in that they draw power from humanity[note 1] and cause both Magic and Physical Damage due to their "weighty" nature.[6]
Big Hat Logan of the Dragon School in Vinheim played a role in the development of numerous sorceries.[7][8] During his infatuation with Seath in the Regal Archives, Logan developed new sorceries and boosted existing ones.[9][10]
Sorceries
Edit
Sorcery
Effect
Uses
Req. Slots

Int.
Location
Type

Soul Arrow
Fires Magic projectile.
30
1
10
Ranged
Magic

Great Soul Arrow
Stronger Soul Arrow, slower cast time and fewer uses.
20
1
14
Griggs
OR
Logan
Ranged
Magic

Heavy Soul Arrow
Stronger and slower Great Soul Arrow.
12
1
12
Ranged
Magic

Great Heavy Soul Arrow
Stronger and slower Heavy Soul Arrow.
8
1
16
Griggs
OR
Logan
Ranged
Magic

Homing Soulmass
Conjures Soulmasses that seek targets within range.
10
1
18
Griggs
OR
Logan
Ranged
Magic

Homing Crystal Soulmass
Stronger version of Homing Soulmass.
10
1
24
Big Hat Logan
Ranged
Magic

Soul Spear
Fires a powerful Magic Soul Spear.
4
1
36
Griggs
OR
Logan
Ranged
Magic

Crystal Soul Spear
More powerful version of Soul Spear.
4
1
44
Big Hat Logan
Ranged
Magic

White Dragon Breath
Creates a straight line of crystals along the ground.
20
1
50
Big Hat Logan
Drop
Ranged
Magic
AoE

Magic Weapon
Augments right hand weapon with Magic.
5
1
10
Griggs
OR
Logan
Support
Magic
Augmentation

Great Magic Weapon
Stronger version of Magic Weapon.
3
1
15
Anor Londo
Chandelier
Support
Magic
Augmentation

Crystal Magic Weapon
Strongest Augmentation Sorcery.
3
1
25
Big Hat Logan
Support
Magic
Augmentation

Magic Shield
Raises Stability of left hand shield.
5
1
10
Griggs
OR
Logan
Support
Augmentation

Strong Magic Shield
Stronger version of Magic Shield.
3
1
15
The Duke's Archives
Chest
Support
Augmentation

Aural Decoy
Creates a diversion to lure enemies.
20
1
10
Griggs of Vinheim
Support

Hush
Silences the caster's movements.
6
1
15

Sen's Fortress
Corpse
OR
Griggs
Drop

Support
Augmentation

Fall Control
Reduces damage and noise from falling.
10
1
15
Griggs of Vinheim
Support
Augmentation

Hidden Weapon
Augments right hand weapon.
3
1
14
Dusk of Oolacile
OR
Elizabeth
Support
Augmentation

Hidden Body
Masks the caster's presence.
3
1
14
Dusk of Oolacile
OR
Elizabeth
Support
Augmentation

Repair
Repairs equipped weapons and armor.
1
1
14
Dusk of Oolacile
OR
Elizabeth
Support

Cast Light
Casts light on the caster's surroundings.
3
1
14
Dusk of Oolacile
OR
Elizabeth
Support

Chameleon
Transforms caster into an inanimate object.
11
1
14
Dusk of Oolacile
OR
Elizabeth
Support
Augmentation

Remedy

Cures all negative status effects.

4
1
16
Blighttown
Chest
Support

Resist Curse
Cures Curse buildup.
4
1
16
Ingward
Support

Dark Orb
(AotA)
Fires a giant Dark Orb.
12
1
16
Oolacile Township
Chest
Ranged
Magic
Physical

Dark Bead
(AotA)
Fires multiple Dark Orbs.
6
1
16
Chasm of the Abyss
Corpse
Ranged
Magic
Physical

Dark Fog
(AotA)
Creates a cloud of Poison fog.
2
1
18
Oolacile Township
Corpse
Ranged
Poison
AoE

Pursuers
(AotA)
Similar to Homing Crystal Soulmass but stronger and slower.
3
2
32
Trade Soul of Manus with Snuggly the Crow
Ranged
Magic
Physical
Achievements/Trophies
Edit
Wisdom of a Sage
Acquire all sorceries
Points
25
Trophy
References
Edit
Footnotes
Edit