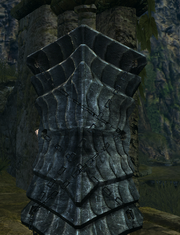 Stability is a gameplay mechanic in Dark Souls.
General Information
Edit
Stability dictates the Stamina that is drained whenever one is hit whilst blocking and thus determines how long one can continually block while receiving blows.
Certain classes of shields and weapons have higher stability than others. Greatshields are known for having the highest stability out of the shields, with the highest being a Crystal Tower Shield, while Ultra Greatswords have the highest out of the weapons.