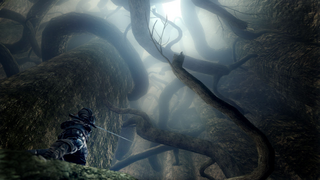 The Great Hollow is a location in Dark Souls.
Adjacent Locations
Edit
Description
Edit
The Great Hollow is in the center of a giant tree, the entrance of which is located in the poison swamp at the bottom of Blighttown. There are two Illusory Walls that lie along the way. At the very bottom of the tree is the entrance to Ash Lake.
The Great Hollow can be a dangerous place due the constant possibility of falling to one's death, getting cursed by Basilisks, or failing to deal with the Mushroom Parents and Mushroom Children.
The Great Hollow is notable for the relatively large amount of Crystal Lizards, many of which spawn in close proximity to one another.
Strategies
Edit
Respawning
Edit
Non-Respawning
Edit
Notable Items
Edit
Upgrade Materials
Edit
Miscellaneous
Edit
Ad blocker interference detected!
Wikia is a free-to-use site that makes money from advertising. We have a modified experience for viewers using ad blockers

Wikia is not accessible if you've made further modifications. Remove the custom ad blocker rule(s) and the page will load as expected.