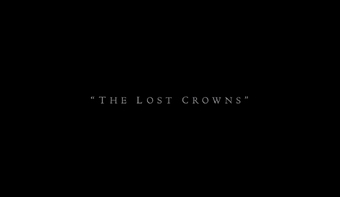 The Lost Crowns is a trilogy of episodic DLCs for Dark Souls II, released for the PS3, Xbox 360, and PC. The episodes can be purchased separately for $9.99 each, or all three can can be purchased through Steam, PSN, and Xbox Live for $24.99.[1]
Requirements
Edit
There are no requirements to access the DLC, other than having access to the Primal Bonfire or location where the warp shrine is located. Each warp shrine leads to a cavernous room containing a locked door.
Players who own the DLC will receive a Key Item that will allow them to open the door. Players who don't own the DLC are still able to play through parts of the new content, but only as a summoned phantom.
Released: July 22, 2014.[2] Accessed through the Black Gulch Primal Bonfire room.
"Crown of the Sunken King sends players on a quest to reclaim the Crown that King Vendrick once owned. With entirely new areas to explore within the Dark Souls II universe, players will find pyramids, underground caverns and unknown foes. It is said that the Ancient crown is buried deep below the surface, but it surely cannot sit unguarded."
Released: August 26, 2014. Accessed through the Iron Keep Primal Bonfire room.
"Crown of the Old Iron King is set in a massive tower engulfed by black mist where flames, smoke and sorcery lurk. Retrieve the crown of the Old Iron King, navigate paths that are not what they appear to be."
Released: September 30, 2014. Accessed through the Shrine of Winter.
"Crown of the Ivory King is set in an ancient temple wrung with freezing storms, towering walls and a hollowing emptiness. Challenged by forces that are one with the freezing elements, low visibility and esoteric abilities."
Upon obtaining all three DLC related crowns and Vendrick's crown, a special ability is granted by after speaking to Vendrick in the Undead Crypt. The ability prevents the player from hollowing upon death if any of the crowns was worn, much like the Ring of Life Protection. However, any souls held will be lost.
In addition, crowns obtained in previous playthroughs do not count towards getting the reward. This means all the crowns must be obtained in a single playthrough for the ability to be granted. The ability does not carry over to the next playthrough.
Promotion
Edit
Every week from June 5 until the release of the Crown of the Sunken King expansion, the contents of the treasure chest at the bottom of Cale the Cartographer's house in Majula will be updated in the following schedule, at 2:00pm JST:[3]
If the chest has been previously opened, it will close itself once reset with the new items. However, the chest will not be reset for those who start the game in offline mode.
The total hard drive space required for the game including the three DLC chapters is 14GB.[4]
References
Edit