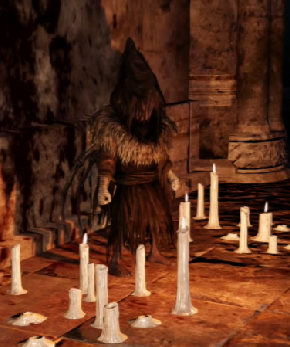 "You want more than just a little blood. You want to be drenched in it, mired in its foul stench. Am I right? Am I? Oh, just say that I'm right!"
— Titchy Gren
Titchy Gren is a character in Dark Souls II.
He is voiced by Con O'Neill.
Found in Undead Purgatory, next to the bonfire which is located after the Executioner's Chariot arena. If killed, his tombstone will appear at exactly the same location where he's first met at Undead Purgatory.
Titchy Gren will introduce players into the Brotherhood of Blood covenant, but only if they have previously invaded and successfully killed another player or present to him a Token of Spite. Upon entering the covenant, Titchy Gren will offer the Crest of Blood, and he will sell various wares as well. 
His dialogue reveals that he holds a grudge towards the Blue Sentinels, as he claims that the Sentinels are "obsessed with hunting down blood servants".
If provoked, Titchy Gren will use his scythe to attack the player. Since his moves are rather slow and predictable, his physical attacks don't pose a major threat. However, Gren can also use some hexes, like Dark Hail and Dark Orb, which can inflict a lot of damage, possibly killing overconfident players.
Character Information
Edit
Health and Souls
Edit
If Titchy gren were to be killed at any point of the game, a Gravestone will appear where he is usually standing inside of Undead Purgatory
Click to see Dialogue (Contains Spoilers)
| | |
| --- | --- |
| Talking without a Token of Spite | What is it? Oh, you trot along home. This place won't be any fun, not for you. |
| Talking after obtaining a Token of Spite | Ooh, welcome, welcome. Do you have a lust for blood? |
| Answering "No" to any of his questions | Well, that's not fun. Go back home. This is no place for you. But if you seek Undead blood... I welcome you. |
| Answering "Yes" | Yes, of course, why else would you be here? Do you give yourself to Nahr Alma? |
| Answering "Yes" for a second time | Then you will need blood, lots of it. Undead blood, like your own. But it's not as easy as you think! Well, what'dya say? Join the Brotherhood of Blood? |
| Answering "Yes" for a third time | Hmm... Only ever one word answers for you, isn't it? I want to hear what you really think. You want more than just little blood. You want to be drenched in it, mired by its foul stench. Am I right? Am I? Oh, just say that I'm right! Heh heh heh... |
| Entering the covenant | Heh heh heh... I knew it, I knew it! Fantastic! You're the best. Now you are a servant of Nahr Alma. This Crest of Blood is yours.  |
| After receiving the Crest of Blood | There! Another servant of blood is born! You will serve well, I just know you will! |
| Greetings | Well, how are we? Whatever you need, I've got it for you. |
| Leaving without purchasing anything | Fine, either way. Heh heh heh... |
| Leaving after purchasing something | Come back soon. Heh heh heh... |
| Talk  | Know anything about Tokens of Spite? Well, you can fight other blood servants with them.  I'll reward you if you win. With red orbs. You know, a Cracked Red Eye Orb. Use them to visit other worlds, and seek more blood. Tell me if you need anything else. I'm very generous. Anything to get you covered in blood. |
| Talk x2 | Have you heard of the Blue Sentinels? They're are a thorn in our sides, to say the least. Their men are obsessed with hunting down blood servants. Ah, who cares? It's just another chance to spill more blood. Doesn't that excite you! Heh heh heh... |
| Talking after leaving the covenant | Wait, you've left the Brotherhood of Blood. Oh, well. Some people just don't have it in them. Bye-bye. Don't loiter for long. You're not wanted in here. |
| Talk after leaving the covenant x2 | I've no use for you anymore. Trot along home. Heh heh heh... |
| Hurting him | That hurts... |
| Becoming hostile | Well, whose blood will spill first? |
| Killing the player | You are a sad, sad fool. Oh, its even on my shoes! |
| Hurting him x2 | Ouch! Ouch! Heh heh heh... |
| Killing him | Heh heh... heh heh heh... |