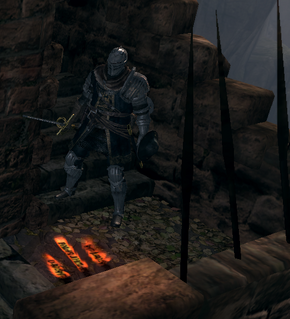 Undead Prince Ricard is a minor character in Dark Souls.
Prince Ricard is a hollowed enemy found towards the top of a tower in the latter half of Sen's Fortress, beyond the Berenike Knight.
Judging from his armor, Ricard was probably from Astora.[1] He is of noble stock and became Hollowed in Lordran.[2]
Ricard wields his Rapier and Buckler for close-range combat and a Longbow for more distant targets. He can parry and riposte attacks. His attacks deal fairly low damage, giving a lot of room for error.
Character Information
Edit
Health and Souls
Edit
Health
Souls
NG
NG+
NG
NG+
719
1,315
4,000
12,000
Physical Defenses
Elemental Defenses
Resistances
285
280
314
285
202
218
179
C
C
B
These stats are sourced from FuturePress's Official Dark Souls Strategy Guide.
Equipment
Edit
References
Edit
↑ Elite Knight Set descriptions.
↑ Ricard's Rapier description