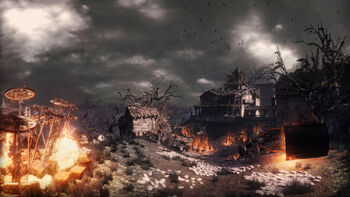 The Undead Settlement is a location in Dark Souls III.
Description
Edit
A dilapidated township filled with crude buildings and rotting corpses. The Undead Settlement is a rather lengthy area filled with dangerous enemies. Although the resident Peasant Hollows are relatively easy to deal with, dispatching the Hollow Slaves will prove to be tricky, and the area introduces a new, dangerous enemy: the Evangelists.
The cemetery is under the watch of the giant archer, and traversing it will prove dangerous without a very specific Young White Branch.
Although the route to the adjacent Road of Sacrifices is straightforward, players can choose to explore the area more thoroughly if they seek to challenge the optional boss, the Curse-rotted Greatwood, participate in Siegward's questline, or meet new NPCs.
Adjacent locations
Edit
Characters
Edit
Respawning
Edit
Non-respawning
Edit
Covenants
Edit
Consumables
Edit
Key items
Edit
Boss souls
Edit
Upgrade materials
Edit
* If required conditions are met.
Ad blocker interference detected!
Wikia is a free-to-use site that makes money from advertising. We have a modified experience for viewers using ad blockers

Wikia is not accessible if you've made further modifications. Remove the custom ad blocker rule(s) and the page will load as expected.