For the Dark Souls variant, see Washing Pole.
For the Dark Souls II variant, see Washing Pole (Dark Souls II).
The Washing Pole is a katana in Dark Souls III.
In-Game Description
A stunning, unusually long katana forged in an eastern land.
The extreme length of this blade provides immense range, but also renders the blade extremely fragile.
Skill: Hold
Assume a holding stance to rapidly execute a lunging slash with normal attack, or a deflecting parry with strong attack.
Availability
Edit
Sold by the Shrine Handmaid for 7,500 souls once she has been given the Easterner's Ashes.
Characteristics
Edit
Due to its unusual length, this katana is particularly fragile with only 20 Durability.
Reinforced with Titanite.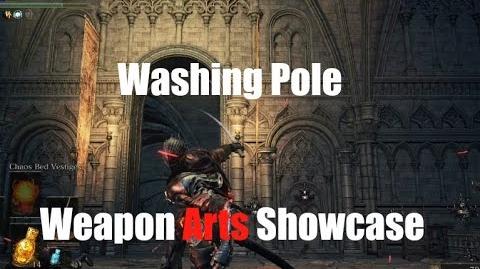 Ad blocker interference detected!
Wikia is a free-to-use site that makes money from advertising. We have a modified experience for viewers using ad blockers

Wikia is not accessible if you've made further modifications. Remove the custom ad blocker rule(s) and the page will load as expected.