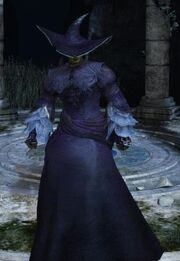 Zullie the Witch is a mentioned character in Dark Souls II.
Zullie the Witch, known for seducing Alva the Wayfarer,[1] set out to ruin Alva through deceit and tricks due to his dedication to Saint Serreta.[1] In the end, however, she ended up spending her whole life with Alva, supporting him in his adventures.[1] Zullie also possessed the Black Witch Set.[1]
References
Edit
↑ 1.0 1.1 1.2 1.3 Black Witch Set's description.
Ad blocker interference detected!
Wikia is a free-to-use site that makes money from advertising. We have a modified experience for viewers using ad blockers

Wikia is not accessible if you've made further modifications. Remove the custom ad blocker rule(s) and the page will load as expected.